MediaPower interviews Sébastien Letemple Dit Chapuy, Regional Sales Manager.
MediaPower: "What is it for and who are the main Newsbridge users?"
Sébastien Letemple Dit Chapuy: "Newsbridge can be briefly defined as an" intelligent media hub engineered "for managing digital and broadcast contents, since it allows to automatically create a series of metadata, simply starting from the analysis of audio and video.
Or, more broadly, we could describe it as a next-generation cloud-based platform aimed at enhancing media management thanks to Multimodal Artificial Intelligence.
Its main users are certainly Broadcasters in general entertainment or monothematic news & sport programming, but also media production companies, sports rights holders and all companies that create multi-level digital content and want to repurpose them."
"So the use of this platform could become crucial in today's great challenge of those companies who need to improve their video content management?"
Yes, anyone "forced" to manage many hours of contents, typically due to the boom in digital video production, is the ideal target.
Every organization today finds itself exploiting hundreds to millions of hours of video materials that must be ingested, ordered, modified, proposed, transmitted, delivered, archived, retransmitted and therefore "monetized" on different channels.
Archives management in multimedia digitization has, in fact, created new and complex challenges. Where does Newsbridge help us the most?
First of all in the integration, indexing, recommendation archiving and sequential processing of the video, using metadata, mostly automated. Then it integrates with existing infrastructures, typically MCR, MAM, PAM.
The exponential growth of contents potentially accessible to a wider audience, certainly not only television channels (linear TV, OTT, VOD e-learning, institutional, etc), forces continuous and exhausting manual indexing operations that are too limited, demanding in terms of dedicated and expensive staff.
It is clear that in order to reuse content, you must first know where they are and find them quickly.
Newsbridge is several steps forward to all, thanks to the elasticity of the cloud infrastructure, the efficiency of the neural networks enforced to analyze multimedia resources frame by frame live and on a delayed basis, and several other pluses.
It thus becomes the central solution for all digital-related activities that start from the indexing of metadata.
Let's try to better understand the workflow in indexing management.
Newsbridge is able to acquire digital and broadcast content and simultaneously carry out all processing in real time: voice transcription, facial recognition, logo, objects and emotions recognition and optical character recognition.
.
It alone produces automatic indexing, creates tags, annotations and transcriptions, like never before.
Then it allows you to crop in real time and export portions of content, practically in any format, for immediate reuse.
The client can industrialize their workflows, configure them ad hoc and the creative team stops wasting their precious time in long manual indexing. The machine does it: it does it much better and much faster.
Does this translate into measurable time savings, cost reduction, efficiency and accuracy gains for any production task?
Absolutely. Newsbridge accelerates the transcription of video metadata by a factor of 8: that is, where an hour of content typically takes about eight hours for a correct transcription performed by an operator, Newsbridge transcribes in real time or even less, on a live feed being ingested, while being recorded!
In sports, for example, this translates into being first on the market, capturing the public, traffic and associated revenue.
The collaborative workflow, made possible by the cloud based configuration, becomes unparalleled with the various teams from different production areas (news editors, editors, journalists, librarians, bloggers, web content editors, etc.) operating on a single data flow, all at the same time.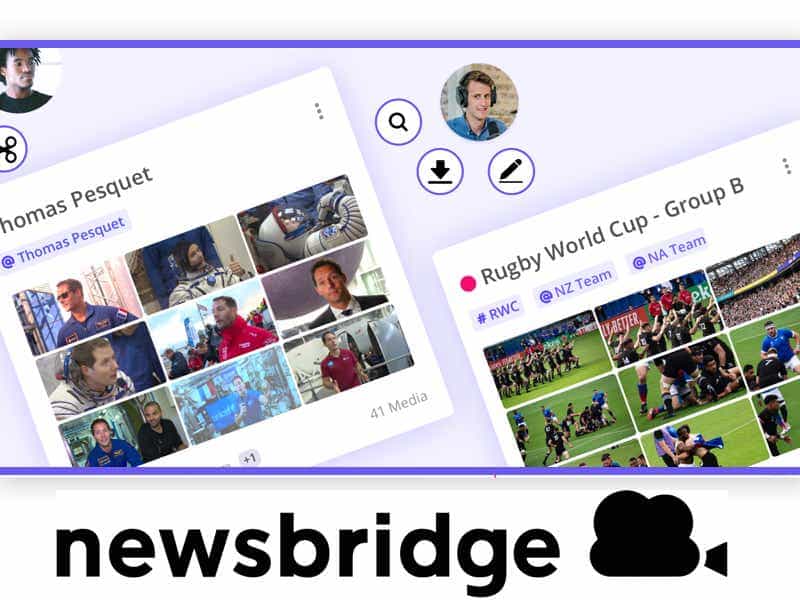 About automatic indexing, multimodal artificial intelligence, metadata management, and cognitive processes, continuous improvement and machine learning, Newsbridge looks quite different from other AI services. Let's deepen.
First and foremost, AI is usually IT-focused, while the Newsbridge team gathers expertise on cognitive technologies and developers who think, create, adapt and implement ideas and solutions focused on broadcasting, i.e. live production and field journalism.
Then Elaia Partners and private investors like BPI France financed two innovation programs in which Newsbridge SAS received almost the maximum amount granted to support cognitive developments.
This is because the artificial intelligence tools on the market, even the giants, are seen and packaged as isolated optional APIs or services that may or may not be enabled: our tests have returned unsatisfactory and unreliable results for journalistic and by media managers use.
In other words, artificial intelligence alone is not a real game changer.
Newsbridge, on the other hand, applies AI just like human intelligence, i.e. it collects various sources of information with a multimodal approach (speech-text, thesaurus, public data, metadata, etc.) that combines statistics, contextual knowledge and guided neural networks from user feedback and then crosses them.
This procedure is called "Knowledge Graph" which adds the semantic "part" to the Database, that is, it combines different metadata together.
Newsbridge's content processing automatically analyzes media and identifies people who appear in any video, using Multimodal AI.
The same happens in speech synthesis and facial recognition which work in real time and on the go thanks to optimized algorithms that also include other details in the analysis to rule out false positives.
The database, used to match video and photo content contains over 500,000 profiles; it is always growing and it is possible to import a custom thesaurus.
Newsbridge also simplifies the process of curating, tagging and reviewing multimedia assets by making them relevant, simplifying the ability to approve and edit metadata (speech, people and context / objects), by defining standard tags.
Through its continued investment in research and development and research partnerships, Newsbridge continually improves to expand the best cognitive sensing technology in the world.
###
© 2021 roberto landini presspool pressoffice – mediapower