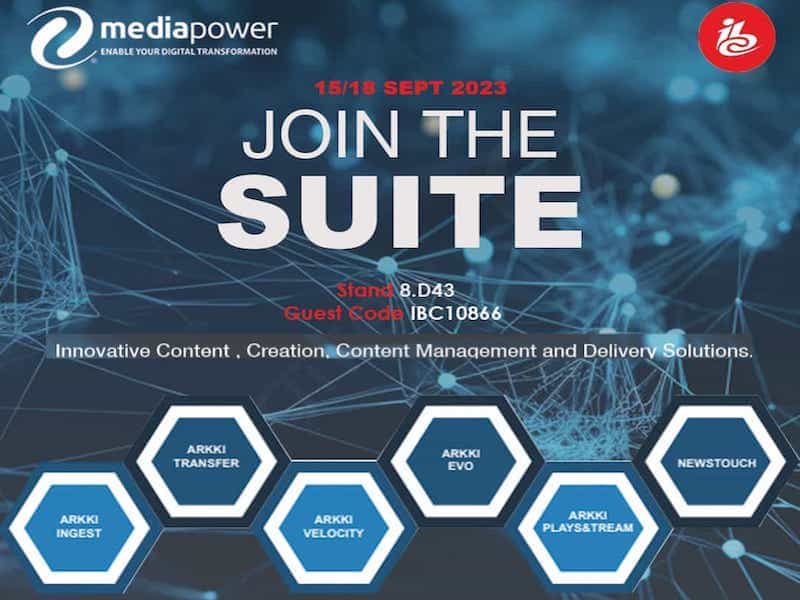 Connected TV and Streaming Ecosystem: ARKKI suite and FAST channels.
Marcello Dellepiane, CEO of MediaPower, announcing the presence of his company at the next IBC 2023 from 15 to 18 September, says: "The MediaPower team invites customers and partners to visit booth 8.D43 to learn more about its proprietary technology which constitutes the basis of the modular platform "ARKKI".
It's the perfect opportunity to catch up on the latest industry news and evolutions, meet with experts, and map together how to scale up your ambitions and transformational agendas, all in one extraordinary show.
But also an ideal time to experience the enormous added value we can bring to broadcasters in any segment, from content creation, management, distribution and monetization".

Fabio Veggiato, Sales and Marketing Director, says:
"Another of the ideas that we are spreading rapidly for broadcasting and that we can explore at IBC over a coffee, is the possibility of supporting a FAST (Free Ad-Supported Streaming TV) and therefore generate new revenues, on the basis of famous international examples with billionaire revenues and millions of viewers.
Again this year IBC represents an exceptional opportunity for MediaPower to connect and engage with our customers, partners and the industry as a whole, in order to better understand how to drive growth and transformation, even in the coming years, of the broadcast & media industry".

FAST: monetize and measure
Recently, we have seen increased demand for AI and cloud-based workflows to enable faster response times and more efficient workflows supporting high-volume systems.
The exponential growth of streaming services has disrupted the typical landscape of television broadcasting and more generally content distribution.
Today every broadcaster has to contend with consumer demands involving streaming.
Among the reasons for this success is the possibility for broadcasters to offer a more tailored service and reach a wider audience.
If we consider streaming and subscription services as a well-established evolution, the same can be said for the free ad-supported streaming services that have appeared more recently: FAST services therefore seem to be the next step.
They are free and constitute a simple extension of what is already happening now for those who broadcast a free linear television signal supported by advertising.
Simply expanding a catchment area that goes far beyond the coverage of a typical TV network.
Furthermore, the advertising world expects an OTT/FAST investment growth of over 20%.
The two driving forces are, therefore, monetize and measure; moreover, the issue also becomes attractive for those broadcasters that air a reduced hourly programming: this allows to give new life and economic value to an often unused archive.
Furthermore, official data indicate that the FAST channel is often ideal for those who produce news or live local content, but even for those who create pre-recorded programs that can always seem to be live broadcasts thanks to the addition of simple live updated graphic intakes.
The same goes for local traffic, meteorological bulletins, which are a reference for localized areas, and regional and municipal sports, which become a useful and monetizable service.

Fabio Veggiato resumes:
"At IBC 2023 MediaPower, among other topics, can also delve into the increasingly exciting concept of creating FAST channels.
In fact, at stand D43 in pavilion 8, the MediaPower sales team is fully available – and for the entire duration of the show – to explore these dynamics in depth.
It is an opportunity to meet our large customer and partner base, learn about the requirements we would be facing, inform our colleagues about the latest options of our ARKKI system and share different use cases, market trends and industry changes as well as we see them and we suggest them".
Marcello Dellepiane concludes:
"The market of broadcasters and content creators in general has often had to put in-house oversized solutions (overshoot); many times completely useless, paying them a lot.
Today MediaPower's proprietary products, such as ARKKI, solve this problem thanks to various "features" that are perfect for the television broadcasting market, such as modularity and – therefore – the possibility of sizing in an ideal way with respect to needs and of growing according to measure.
Among others, the rising subscription cost of extensive streaming services and the increasing unavailability of password sharing make services of a similar type, but smaller and more local in scale, more attractive.
The future of the streaming model is under discussion now that the cost/content ratio has changed: analysts believe that FAST channels will replace traditional linear TV between 2023 and 2035.
The moment is full of new technologies, important choices to make, new strategies to launch and possible mistakes that it is good to avoid, deepening a path towards the future with us".
###
© 2023 Media-Power – Presspool.it Pressoffice RobertoLandini
Click her to book a meerting with Marcello Dellepiane
Click here to book a meeting with Fabio Veggiato
Click here to book a meeting with Carlo Rasile
Click here to book a meeting with Francesca Bianco
Click here to book a meeting with Eugenio Pettazzi
Click here to book a meeting with Cristophe Cordelle