MediaPower today becomes a nodal point in the medical world – health care with the Media Asset Manager Arkki which allows you to simplify and organize the management of the workflow in the growing use of digital content in three areas:
– Specialized training: Live Surgery, E-learning, Precepting, Proctoring, etc.
– Live events: conferences, meetings, product presentations,
– Digitization of AudioVideo contents to supplement the medical record.
ARKKI, double vocation:
– Media Asset Management, complete management of audio and video content; information capture; organization – indexing; reuse for multi-platform monetization.
– Digital Transformation solution that helps all companies engaged in the digital transition to transform archive costs into benefits.
Strategies, infrastructures and processes
Arkki is the heart of a series of integrated modular HW and SW solutions with which we at MediaPower accompany you and which allow you to simplify your medical & health-care activities.
MediaPower takes care of everything for you, in terms of strategies, infrastructures and processes and in content management.
This allows you to ride the change and the extraordinary possibility of digital, forgetting the possible risks typical of reluctance to embrace new strategies.
New strategies with new products in the field of digital transformation, to affirm your company.
Transforming Contents into Assets thanks to MediaPower
Digital contents become assets, i.e. corporate assets of great value, only when they are found and therefore reusable.
The growth of these assets, exponential in number and (digital) space occupied, requires different specific and intertwined skills for their management, so that they can become a corporate asset – today and in the future – easily re-usable by the company, for different purposes:
– Control: complete tracking of sending and sharing of multimedia material for absolute security in the management of privacy profiles
– Management: easily archive all documents, photos, videos and find them thanks to a search by key, in the security of not having to duplicate any of them but to have a complete container that can be easily shared and / or integrated into your company systems
– Marketing and Sales; effectively plan their operational marketing plan, having fully consulted, through the search keys, all the documentation associated with the strategic lines underlying the plan itself.
Every company in Health Care needs to create, develop and disseminate multi-level publications and presentations for clinical and / or scientific research purposes on its own.
Only thanks to an innovative, complete and friendly Media Asset Management as ARKKI, is it possible to achieve similar goals and be sure of developing literature with the certainty of having consulted all the material available, regardless of the original acquisition format, such as texts, photos, videos, stl; dicom; etc.
Diffusion
ARKKI allows the sharing of information and corporate content to the outside world in a totally safe and secure, GDPR compliant, and traceable way.
Each content management activity, thanks to an organized workflow, will have a unique and precise relationship with the company / CRM systems, so as to capitalize on each asset and make it correlated with the rest of the documentary assets already present in the company.
Thanks to the integration with corporate / CRM systems, we can control the development of any activity related to content, generating both added value and savings in scale in archive management.
All this makes it possible to benefit from updated, complete, correlated and consistent content with what the company has produced from the past to today on any topic.
For the Company / Customer binomial this is equivalent to an organized information flow, perfectly suited to educational and information purposes based on an efficient, simple and complete multimedia use, even on the mobile devices we are used to.
Typical example of flow generated by one of the features of MediaPower Medical Suite:
PRE PRODUCTION AREA
– Choice of an intervention to be transmitted by the doctor, even via mobile phone: for example, a patient with a disease that requires a treatment that is useful for highlighting the product developed by the company
– Creation of the event: the place and date of the intervention are identified
– Interface with CRM: the doctor fills out a form prepared by the company, even on a mobile phone, with the information necessary to organize the event
– Management of mailing lists and communication of the event to the possible ones
interested parties: the company CRM takes charge of the above information and crosses the data to verify the possibility of organizing the event in the place and on the proposed day.
PRODUCTION AREA
The live event can be organized at a facility already set up with an audio video installation.
Or using the portable MediaPower system, it can be organized in any location.
– Event streaming and advanced functions: eg. speech to text (the text is recognized and indexed)
– Edit during streaming to create / manage chats and use one or more channels to convey related videos, photos, messages, even for advertising purposes etc.
POST PRODUCTION AREA
– Feedback of the whole flow on CRM with Analytics
– Archiving with metadata
– Availability of contents for reuse on the VOD platform with advanced search ("Personal Youtube" – OTT platform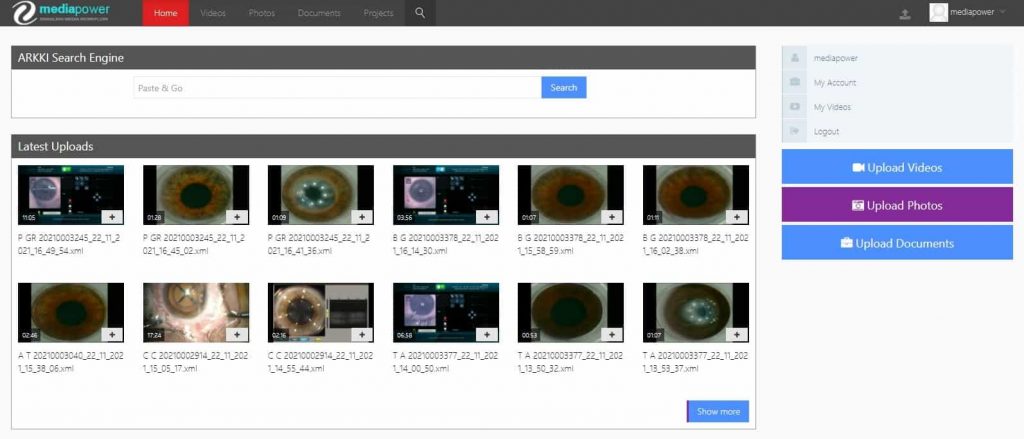 A single workflow for all contents: MEDIAPOWER ARKKI
ARKKI organizes and concentrates all contents of any nature, videos, photos, documents, etc, in an ideal repository for any reuse:
Events, Congresses, Meetings, Live Surgery, E-Learning, Marketing, Video On Demand.
Arkki Stores all digital assets and reuses them to create AV multimedia business content.
Complete and integrated solution with IT and CRM business systems, essential for creating and maintaining relationships with customers.
All medium production is always available, fully searchable and always ready on line.
Stream on the Internet and professionally record corporate events for reuse for marketing purposes.
From creation to distribution of your multimedia contents
An example of the typical Workflow
1. Design of an event and evaluation in sync with the corporate CRM
2. Live event: surgery, congress, meeting, etc.
3. Broadcasting in Streaming from the headquarters through fixed or portable devices by MediaPower
4. Registration, indexing and storage within the ARKKI MAM system
5. Assembly, Editing, eventual enrichment, where necessary, of the contents
6. E-learning; Precepting; Proctoring
7. Distribution: VideoOnDemand with indexed content search
8. OTT platform
9. Use on other distribution platforms
Info on MEDIAPOWER
The great experience of a group of veterans in the Broadcast sector led to the founding of MediaPower in 1993.
The company was born as a certified integrator of top solutions for the Media sector, in collaboration with advanced technology brands such as SeaChange International, DataDirect Networks, NetApp, Dalet and many others.
Over the years, MediaPower has gathered a great experience and ability in the design, development and support of IT solutions for the management of workflows in the Broadcast and Media environment, contributing to the affirmation on world markets of reference companies in the main technological sectors. .
Technological partners
Continuing along a path of prestigious national and international installations, our presence as system integrators in radio and television production and certified IT bodies is a guarantee of technological capacity at the highest levels.
We support this activity with partnerships with prestigious brands in the Media sector, including Dalet, Data Direct Networks, SeaChange Broadcast (now XOR Media), NetApp, QNAP, Front Porch Digital and Utah Scientific.
Proprietary solutions
In 2013 we put all of MediaPower's experience to good use in a new adventure: the design and implementation of a range of innovative and proprietary products.
Among these we highlight in particular the ARKKI product, a fundamental solution in the transformation and transition to digital for all companies in vertical contexts and sectors.
© 2021 mediapower – robertolandini presspool