Enhancing and monetizing next generation media
NewsBridge is a French company founded in 2016, spin-off from Dalet and owned today by TF1 and France Television, which are also its main customers, along with M6.
The main product, bearing the same name of the company and introduced towards the end of 2018, is an innovative cloud-type platform based on a very powerful Artificial Intelligence engine that was born with a single purpose:
to revolutionize the user experience in managing and processing very large quantities of multimedia resources, or digital assets, of a multiple nature.
Distributed in Italy by MediaPower, NewsBridge is much more than an "innovative MAM" entirely linked to a proprietary Artificial Intelligence, in fact it was born as a step forward in the management of media from traditional formats and to offer itself as a platform capable of revolutionizing multi-level user experience.
This philosophy is part of a rather futuristic and broader project willing to involve very "targeted" channels (television or not) where streaming can be super personalized for each user.
Today, in fact, for the TV broadcasting sector the main problem is managing hours and hours of recordings and broadcasts that generate oceans of content to be cataloged and indexed by using metadata.
This activity is usually very expensive and it is practically impossible to correctly apply the metadata to all the material with quality, in order to be able to find and reuse it.
Let's think, for example, of the difficulty of finding a certain player or a certain logo at a certain time in a game.
In order to index large amounts of materials until yesterday it was essential to dedicate a very large group of operators who manually "spent their lives" applying – like scribes – all the metadata.
This has always made the publication of content very slow, making it difficult to "re-monetize" and increasing production costs.
NewsBridge was created precisely to remove all the obstacles and barriers that stand between users and content and certainly not only in the broadcast world: everyone's need is to have instant access, from anywhere, to precise multimedia resources that are increasingly available. In critical quantities, in order to collaborate effectively.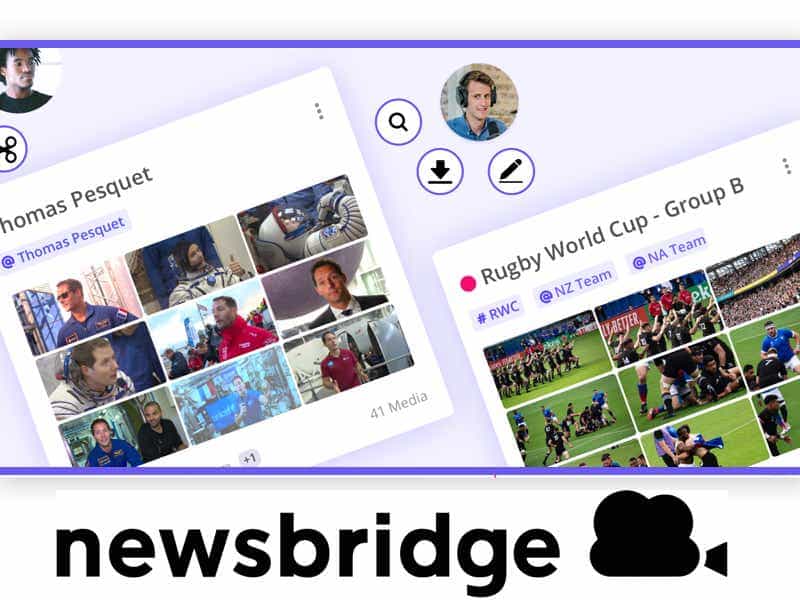 Accelerating any workflow
The process of "democratization" in the "in house" production of digital contents at a global level has produced the widespread need to be able to manage them in a coordinated way and reuse them for an economic background.
This resource management platform was essentially created to accelerate the real-time contextual indexing of content, i.e. being able to insert an ingest live video into the system, contextualize it, and create a metadata description in real time.
NewsBridge is excellent in recognizing objects, scenes, audio transcription and semantic context.
This allows – really – to revolutionize the media production market at all levels, given that, despite the many hours of footage, we are always able to find what we need and propose and re-propose – or "monetize" – those contents. very fast.
The suite was created to be used entirely in cloud, independently, to perform ingest, multi-client edits, MAM, metadata, but it can also be installed on premise.
The operation, which takes place in real time, makes the reuse of the contents immediate.
Today, not only television channels, but news agencies, sports federations and production companies, journalists, publishers and documentary makers, but also companies in corporate communication, are the typical users of NewsBridge.
The great advance of this platform is acknowledged from the territories of origin, that is, from the Francophone world with top level customers who immediately understood the boundless possibilities.
Among these, just by way of example: M6, TF1, LCI, France TV, LeParisien, the French National Football Team, Rugby, the Volleyball Federation, Asharq News, Reed Midem, and then Evian, Adidas, Danone, Banijay Group, Expo 2020 Dubai, Bloomberg India, news agencies like Capa, and over 30 more than satisfied customers. But we are only at the beginning.
In practice, those who have to manage large amounts of digital video data and multimedia collections for use in linear, in OTT, on social networks, on the internet, etc., can grasp the current value of the NewsBridge proposal which today, if desired, also integrates with systems of pre-existing third-party MAMs (e.g. Dalet and Vizrt).
It is important to emphasize that even organizations with a resident MAM, even a prestigious one, can take advantage of the enormous capacity of automatic and / or semi-automatic indexing of NewsBridge, so as to avoid blocking the many operators who otherwise have to work in this processing, manually, extensively and daily.
Unlike what happens in other expensive solutions on the market, it does not require a team of in-house physicists and engineers dedicated to AI, with all the complexities of the case; and it certainly has typical MAM features such as the creation of ever-growing "collections" or intelligent folders that recognize faces, words, objects, and multimedia AI logos.
Just to give an example, in the stream of a football match NewsBridge manages to identify all the exact frames where a certain logo appears, perhaps on a shirt, and can find it in some collections that are already ready.
The same goes for a precise word, a topic, which become immediately recoverable and retrievable and therefore immediately reusable: this adds a new value to existing materials.
###
© 2021 roberto landini presspool pressoffice – mediapower