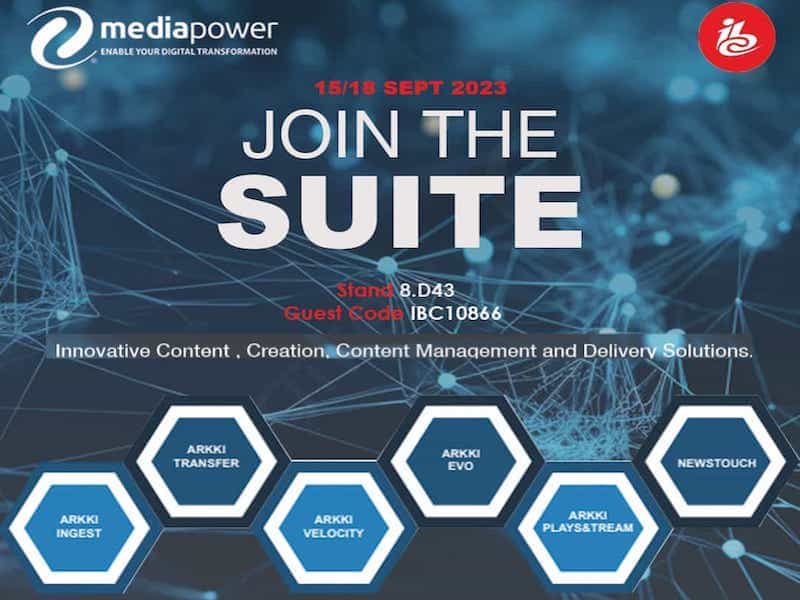 What could we expect from the video services industry in the coming months?
Presspool: "In the first part of this interview we saw how MediaPower responds to the great stimuli that cross the entire Broadcast & Media industry.
We talked about competitiveness and profitability, trends, business models and more.
Let's continue here starting with media consumption habits.
Are they changing and is there a growing demand for new features?"
Marcello Dellepiane: "Yes, of course. Today we can do a lot in these areas and come up with great new "features", such as instant action replays, additional data feeds, new virtual graphics, different camera angles or even scheduled bets.
We can offer audiences the opportunity to personalize their viewing experiences and easy access to content relevant to them, on an individual basis, allowing them to consume it where they want, when they want and according to their own multi-device point of view".
Presspool: "In practice, new services trying to conquer the market will have to offer a high QoE: both excellent content and spectacular performance".

Marcello Dellepiane: "It is almost trivial to say it, but the refrain that customers remain loyal to services that offer the best quality viewing experience on all devices and networks has certainly not changed.
Those venturing into new avenues, new streamers and FAST services, are faced with an existing high-performance landscape that they must overcome to generate a positive impression."
Presspool: "What forms does MediaPower offer of tailored, relevant and unique content to attract the right audience at the required scale?"
Marcello Dellepiane:  "Some of the ingredients to be successful are certainly: finding ways to differentiate yourself from fierce competition, engaging digital audiences with high-quality programming, offering more personalized and tailored viewing experiences."
Presspool: "The cloud and the "IP-First" approach are becoming the norm for the adoption of cloud-based and IP-based hybrid production workflows that increase speed. Can we say that this real-time centralization for high-value content creation is no longer in the experimental stage?"
Marcello Dellepiane:  "We propose to leverage the flexibility of the cloud and the security of on-premise systems in full, with large applications of AI where possible.
Today the cloud appears as an inevitable step for broadcasters and production companies looking for ways to deliver much more content, more efficiently and at lower costs; this focus will lead to a massive increase in cloud-based workflows.
Such accelerated remote production workflows over the past couple of years have cleared the acceptance of cloud and software-defined technologies.
The same can be said for the search for cost-effective and future-proof alternatives for large-scale transport and distribution that save a lot compared to the use of satellites and also allow for regionalization and personalization towards consumers.
The next step is precisely the increase of the monetization potential".
Presspool: "So are cloud playout solutions included in this talk, that combine the feature-rich robustness of broadcast-grade, custom, on-prem playout with the agility and scalability of the cloud?"

Marcello Dellepiane:  "Of course. Cloud technology is reshaping everything from more flexible and cost-effective Media Asset Management (MAM) systems with artificial intelligence (AI)-based media procurement and production capabilities for tasks like highlight creation and advanced customization potential to meet all the demands of the media structure".
Presspool: "There is also a lot of talk about artificial intelligence implemented in workflows, even in OTT".

Marcello Dellepiane:  "Its pervasiveness is growing, always with the aim of improving the user experience and the personalization of content.
In addition to indexing, in supporting the process of creating and delivering content, it is also discussed in post-production, technical, quality, compliance, subtitling, suggestions and personalized advice on content, and new conversation interfaces.
AI, Machine Learning (ML) and Automation are potentials to be explored which, among other things, make it possible to better match content to viewers and therefore guarantee have a high level of profiling".
Presspool: "5G and its growth are also harbingers of a whole new range of user experiences, even at events – are they new revenue opportunities?"

Marcello Dellepiane:  "Even on this landscape in MediaPower we are very at the forefront and we propose incredible solutions and brands that will generate unique user experiences for fans, instant replays, immediate access to tactical analysis, extensive use of sports data that entertain, e-commerce, even in stadiums.
This will make it possible to maintain and acquire subscribers, especially for high-profile live sports, but certainly not only.
In this chat – as requested 😉 – we deliberately didn't talk about brands and products but only about solutions and trends.
We are, however, perfectly capable of giving faces to these extraordinary possibilities of facing the digital future, already today.
So, in addition to a demo at our company headquarters or at each customer's headquarters, another ideal place to do it is the next IBC (September 15-18 Amsterdam) where we will meet you, at the MediaPower booth 8.D43, also to take a tour together at the stands of the famous brands or partners we represent."
###
INFO: https://www.media-power.it
©2023 MediaPower – Presspool PressOffice RobertoLandini


Click her to book a meerting with Marcello Dellepiane
Click here to book a meeting with Fabio Veggiato
Click here to book a meeting with Carlo Rasile
Click here to book a meeting with Francesca Bianco
Click here to book a meeting with Eugenio Pettazzi
Click here to book a meeting with Cristophe Cordel