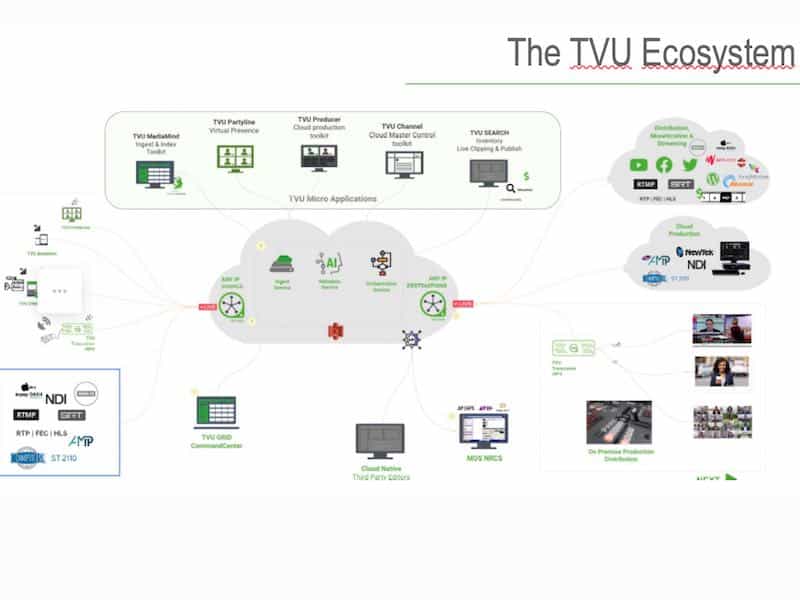 MediaPower, a well-known workflow integrator for the broadcast and media sectors for over 30 years, strengthens its portfolio of prestigious brands and innovative products represented, along the entire production, management, and distribution chain of audiovisual and broadcast content, thanks to a fresh distribution agreement of TVU Networks technologies.
In addition to managing the so-called "traditional" audiovisual and broadcast supply chains, thanks to TVU Networks, MediaPower customers will be able to tackle the entire supply chain with new tools.
In fact, the entire content production and distribution process can now be tackled, thanks to TVU Networks, remotely, in the cloud, via IP, and in SAAS mode, therefore according to the most consistent and current dictates.
"Thanks to the new partnership with MediaPower", said Jean-Christophe Albou, Sales Director Europe of TVU Networks, "a company that is highly appreciated and recognized in Italy, but also considered prestigious by various branches on international territories, we will be able to push our solutions further ahead, on new markets.
Simple, scalable and affordable, TVU Networks IP and cloud-based technologies and products boast a 16-year history in the industry, over 4 million airtimes annually, and are Emmy Award winners. For our customers – and from today also for those of MediaPower – these technologies are the guarantee of a reassuring presence at every stage of the production and distribution of content to all available platforms."
"We could summarize," says Fabio Veggiato, Sales Manager of MediaPower, "by stating that the basic philosophy of TVU Networks is to propose better ways to create live on-premise and remote productions, and therefore open up to new forms of revenue.
In order to maximize the potential of any live production, TVU is reinventing the media supply chain by enabling the development of seamless IP connections for cloud-based, synchronized multi-camera remote production.
At the same time, the production can count on the collaboration of talents, in real-time, for the involvement of the fans.
Thus, today, the content producer finds it very easy to be able to provide many more stories, in a decidedly more agile and reliable way, to an audience that responds with greater involvement".
Among the many pluses of TVU Networks solutions, we mention, one for all, the Emmy-winning 5G cellular transmission aggregation technology, which guarantees extraordinary reliability for interaction in the field of filming with live audiences.
"MediaPower's distribution of the excellent TVU Networks products", underlines MediaPower CEO Marcello Dellepiane, is perfect for our market and is an important strategic move, also due to the strong proximity in terms of corporate philosophy.
In fact, both companies work closely with customers, for them they tend to reduce costs without compromising quality, and in general, allow cross-platform content to be produced faster and more intelligently.
These tools are invaluable in enriching every story at every step and ensuring customers share and deliver content efficiently and without latency.
For each segment of production, from capture to management, distribution and monetization, TVU offers various solutions that integrate perfectly into a complete and modern supply chain that our customers will be able to appreciate and that Fabio Veggiato is very happy to introduce to you on request".
###
About MediaPower
With over 30 years of experience and expertise intertwined in the design, delivery and implementation of AV services and IT workflows, MediaPower addresses the new requirements of digital transformation and meets the demand of the traditional broadcast and media industries with digital cloud solutions and high-performance software, today equally valuable to the emerging sectors of Health-care, Medical, Enterprise, Heritage and others.
MediaPower is the partner that enables every company to align with changes in the media industry, including the growth of video streaming services, the optimization of media processing with IP, edge, and cloud applications, and greater monetization with personalized content multi-platform.
Thanks to a detailed mapping of processes, needs and workflow management, MediaPower is able to implement an appropriate, tailor-made and "budget-conscious" technological strategy for customers of all sizes.
Info: https://www.media-power.it
About TVU Networks
TVU Networks is a global organization with more than 3,000 customers using its IP and cloud-based workflow solutions across multiple industries including news, entertainment media, sports, corporate, streaming, houses of worship and government. Through the use of AI and automation-driven technology, TVU helps broadcasters realize an efficient metadata and story-centric workflow through its TVU MediaMind platform for live video content acquisition, indexing, production, distribution and management. The company has been on the forefront of developing the tools needed to revolutionize and streamline the Media Supply Chain. TVU is a critical part of the operations of many major media companies worldwide and is a Technology and Engineering Emmy® Award winner.
Info: https://www.tvunetworks.com
© 2023 MediaPower – RobertoLandini Presspool.it Pressoffice